Kythor's custom armor. Unobtainable.
Kythor has stated that his weapons, Kythor's Soulrender. and the Kythor's Shroud change their stat values when new content is released.
Trivia
Kythor willingly accepted a duped DragonSkull Robe to use it instead of his own personal shroud.
It might be buffed.
The reason why he's using the DragonSkull Robe is because he's waiting for Kensai to add a regen stat to his Shroud which will be the new buff.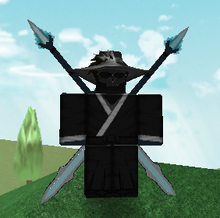 Ad blocker interference detected!
Wikia is a free-to-use site that makes money from advertising. We have a modified experience for viewers using ad blockers

Wikia is not accessible if you've made further modifications. Remove the custom ad blocker rule(s) and the page will load as expected.