Mist Cloak is one of the leaked items from either Floor 9, or the 2016 Event floor. Multiple players have been getting this armor from admins.
The Mist Cloak closely resembles the Coat of Midnight that Kirito wears in the anime Sword Art Online. Except in the anime Kirito wears his cloak over the Fields Light Armor instead of the Blue Starter Clothes.
It is a black coat with white shoulder pads, over
Blue Starter Clothes.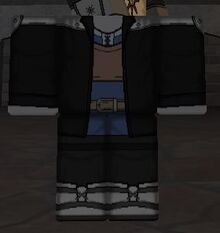 Ad blocker interference detected!
Wikia is a free-to-use site that makes money from advertising. We have a modified experience for viewers using ad blockers

Wikia is not accessible if you've made further modifications. Remove the custom ad blocker rule(s) and the page will load as expected.