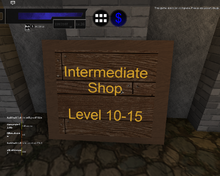 This shop is for intermediate players who have passed level 10. Also known as the Intermediate Shop, players level 10-15 are to buy weapons, shields, and armor from here. There are a total of 6 items that can be bought in this shop from a range of 3,000 to 9,000 Col. The items are ordered in this shop by shields and weapons on the first level and armor on the second level.
Ad blocker interference detected!
Wikia is a free-to-use site that makes money from advertising. We have a modified experience for viewers using ad blockers

Wikia is not accessible if you've made further modifications. Remove the custom ad blocker rule(s) and the page will load as expected.